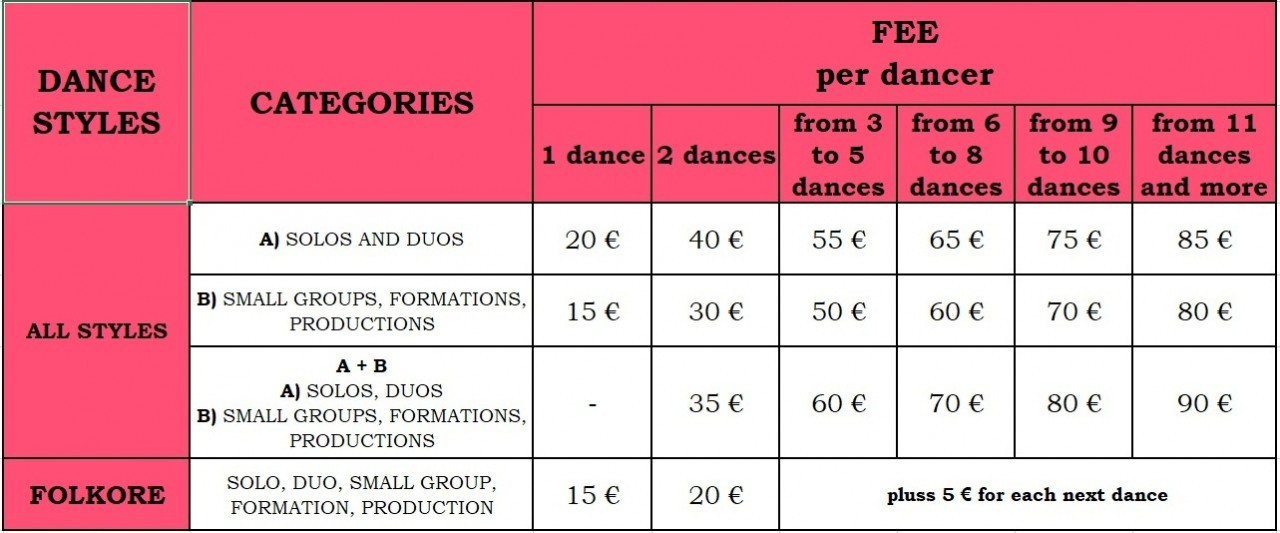 FEES ONLY FOR FOLKLORE GROUPS AND CLUBS per PARTICIPANT: 1 dance: 15 Eu; 2 dances: 20 Eu; each next dance: +5 Eu
The participation fee for IMPRO Style is extra 10 eu per dancer . The style is ONLY FOR SOLOISTS!
IMPORTANT ! IMPORTANT ! IMPORTANT !
END TERM FOR APPLICATIONS: 05.04.2024 (FRIDAY)
END TERM FOR HOTEL PAYMENT AND PARTICIPATION FEE: 05.04.2024 (FRIDAY)
Application can be submitted THROUGH OUR ONLINE PLATFORM from the REGISTRATION/FESTIVAL REGISTRATION Button ONLY !!! If you need help, please do not hesitate to contact us.
Email: magicworldfest@gmail.com
After the end term /05.06.2023/, applications will not be accepted!
It will not be allowed teams or individuals, who didn't pay in advance the minimum of 50% or the total amount of the participation fee to participate in the Festival!
Mobiles: 00359 886 050 070 - Milena Nalbantova- Festival Director,
00359 896 614 518 – Rosen Bozhilov - Festival Exec Director

PLEASE PAY YOUR PARTICIPATION FEE AND HOTEL ACCOMMODATION FEE NOT LATER THAN 5 June, 2023 TO THE FOLLOWING BANK ACCOUNT:
IBAN: BG36 STSA 9300 0020 571784
SWIFT / BIC: STSABGSF
Milena Nalbantova
Fee and Hotel "Magic World" Festival
If you are using transport services from the Organizer from the airport to Haskovo city you can pay directly in Bulgaria after arrival.
IF YOU WOULD LIKE TO GET INVOICES FOR YOUR PARTICIPATION FEE OR HOTEL, PLEASE SEND US YOUR DATA AT: magicworldfest@gmail.com
Partners